Pumpkin Everything
7:00:00 PM
Fall is here and the leaves are finally changing. This also means that pumpkin EVERYTHING is available in the grocery store. If you're looking for something less basic and more gourmet, check these five amazing recipes



OMG my mouth is watering just looking at this picture. I'm dying to make this easy and delicious curry recipe that is perfect for crisp fall nights.
Rice Krispie treats remind me of my childhood. I made them with my grandma and when I have them I think of her. This seasonal update gives a fresh take on a family favorite.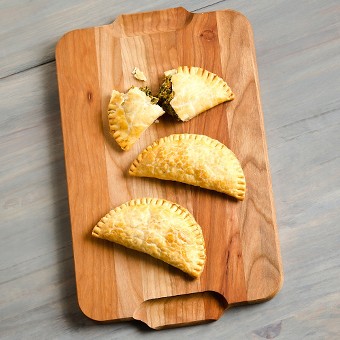 Pumpkin and Ricotta Empanadas via
Target
First things first, I didn't know Target had a recipe blog on their website. Secondly, this recipe looks amazing. Seriously, crusty empanadas filled with pumpkin? I've had ones with rosemary and butternut squash so I'm sure this combo will be just as delightful.
Aw yeah. Pumpkin brownies. Talk about a treat. I'll be making these for Friendsgiving next month.
I made this last year and it was a big hit. This savory pumpkin dish is filled with flavor. Crispy sage is a nice finishing touch.
What's your favorite pumpkin recipe?