One of my big goals for 2016 is to pare down my wardrobe and establish a capsule wardrobe. Rather than buying all the pretty things that catch my eye, I want to make smart purchases and invest in clothing and accessories that can be worn a ton of different ways. That being said, I've been on the lookout for a pair of booties that can be worn with anything and during multiple seasons. Luckily, I found the perfect pair. I'm head over heels in love with the Dolce Vita Haku Bootie: half-bootie, half-mule, and a whole lotta sass. These bad boys will look amazing with cuffed boyfriend jeans or a flirty sundress.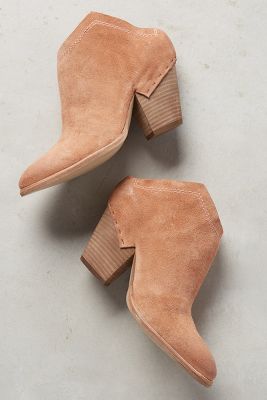 I decided to get the pale neutral pair as seen in the second picture (which is listed as pink on Anthropologie but it's definitely not pink). I've already worn them with black skinny jeans, a lace top, and my jean jacket. They'll look stellar with a maxi dress or even a flirty sundress. I have a sneaking suspicion that I'll be wearing them all spring and summer.
Do you have any recommendations for creating a capsule wardrobe? Would love to hear your ideas in the comments!